Rifle Range:
50 yards (lanes 1 & 2)
100 yards (lanes 3, 4, 5 & 6)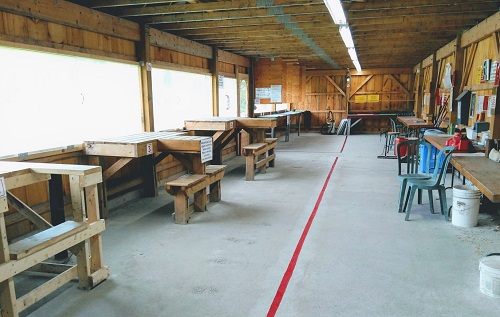 Pistol Range:
6 lanes (7 thru 12)
20 yards
Range Safety Officer (RSO) You must be a member who is certified as an RSO to use the range – or be with a club certified RSO. RSO training is included in our Club Level Safety Course – see our Home page.
The pistol and rifle ranges are closed whenever the trap range is in use (Sunday afternoons & Tuesday evenings) and during the live fire portion of our Range Safety Officer training – see calendar for schedule.
Hours: dawn to dusk except when Trap Range is in use
Range access is by key-fob only. Everyone must sign the log book.
During non-discipline hours:

No Firearms downrange of the firing line and
No Tactical shotgun use.
League Shooting
Interested in a little friendly competition? Check out our Leagues for Rifle and Pistol.
Probation Shoots
Members are required to complete our Club Level Safety / Range Safety Officer (CLS/RSO) course plus a number of probation shoots before being issued a key-fob for access to the range.
Probation Shoots
Costs & Contact
Members who need to complete their probation shoots may arrange to join us on Monday evenings (except holidays) at 7pm*.
We may limit the number of shooters on any given Monday night.


*Please Pre-register using our On-Line Registration Portal (the blue button below)

There is a $5 charge for each set of 3 probation targets.
– RPAL holders: minimum of 3 sets of targets is required
– PAL holders: minimum of 1 set of targets is required
Firearms (rimfire handguns and rifles) are available to rent if needed.

When CLS/RSO and Probation have been successfully completed, you may acquire a key-fob for access to the Rifle-Pistol Range. A deposit of $25 is required.